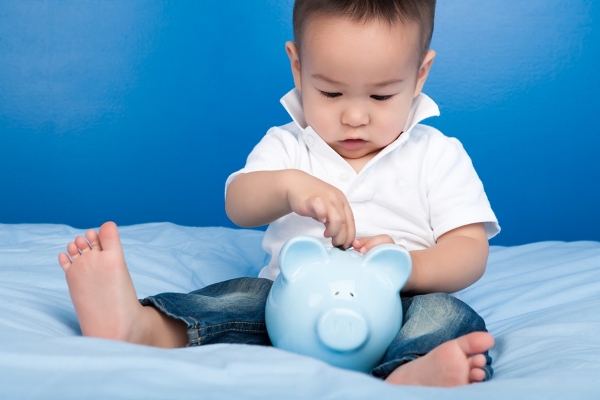 Congratulations! You have just learned that your family is growing. This is wonderful news but it can be overwhelming to think about the expenses that come with a new addition. From everyday expenses like diapers and a crib to long term expenses like a college fund, there is a lot to think about in your future. No need to get anxious. If you develop a plan, not only will you get through the early days, you can plan for the long term too. Follow these tips to save for your baby today.
Create a Baby Registry With Needs, Not Wants
When you set goals to save for your baby, it's important to start with your baby registry. It is very tempting when you walk into a baby store to be in awe of all the gadgets and new items for baby. It's tempting to put a high-end stroller on that baby registry but as you create a registry, think about what your needs are really going to be. If you can find a way to acquire big-ticket items from a friend or family member, definitely do so. If not, think realistically. Put only items that you truly need and are within your friend's and family's price range. Also consider filling your registry with things you will need from day one like diapers, wipes and any feeding items or equipment. Direct everyone to this registry to help defray your initial baby costs.
Open a 529 Plan for Baby
A government 529 plan is an education savings plan that your child can use for any educational expenses including K-12 private school, college education expenses, and technical schools. For anyone who wants to give you cash, think about directing them to your child's 529 plan. In some states, those contributing to a 529 plan, friends or family, may be eligible to receive a tax deduction. Check and see if your state is one of them.
Open a "Baby" Savings Account
Like any big-ticket item, it always helps to open an account that you can divert a little money every month. Opening a savings account is a great way to save for your baby. For those nine months, you can be saving for baby items, lost pay during maternity or paternity leave, or longer-term goals. Once the baby is born, the savings don't have to stop there. You can keep contributing to the account as it becomes your childcare fund or camp fund as your child ages. It is also a place that you can put any cash gifts you may receive from family and friends.
Ask Your Employer About a Child Care Flexible Spending Account
Some employers participate in the government's flexible spending program. This a pre-tax program that allows you to save childcare-related expenses like camp, daycare and other child-related expenses. You can continue to take advantage of this program until your child reaches the age of 13. The funds come directly from your paycheck, so there is nothing additional to do on your part after you set up the account. And you can pay expenses directly from the account as they are incurred.
Thinking about your baby's short and long term needs will help you line up the right savings mechanisms. Use the savings plans whenever your child has a birthday, milestone event, or as a holiday gift. It is truly the gift that keeps on giving.